Concord Piecemakers Quilt Show 2019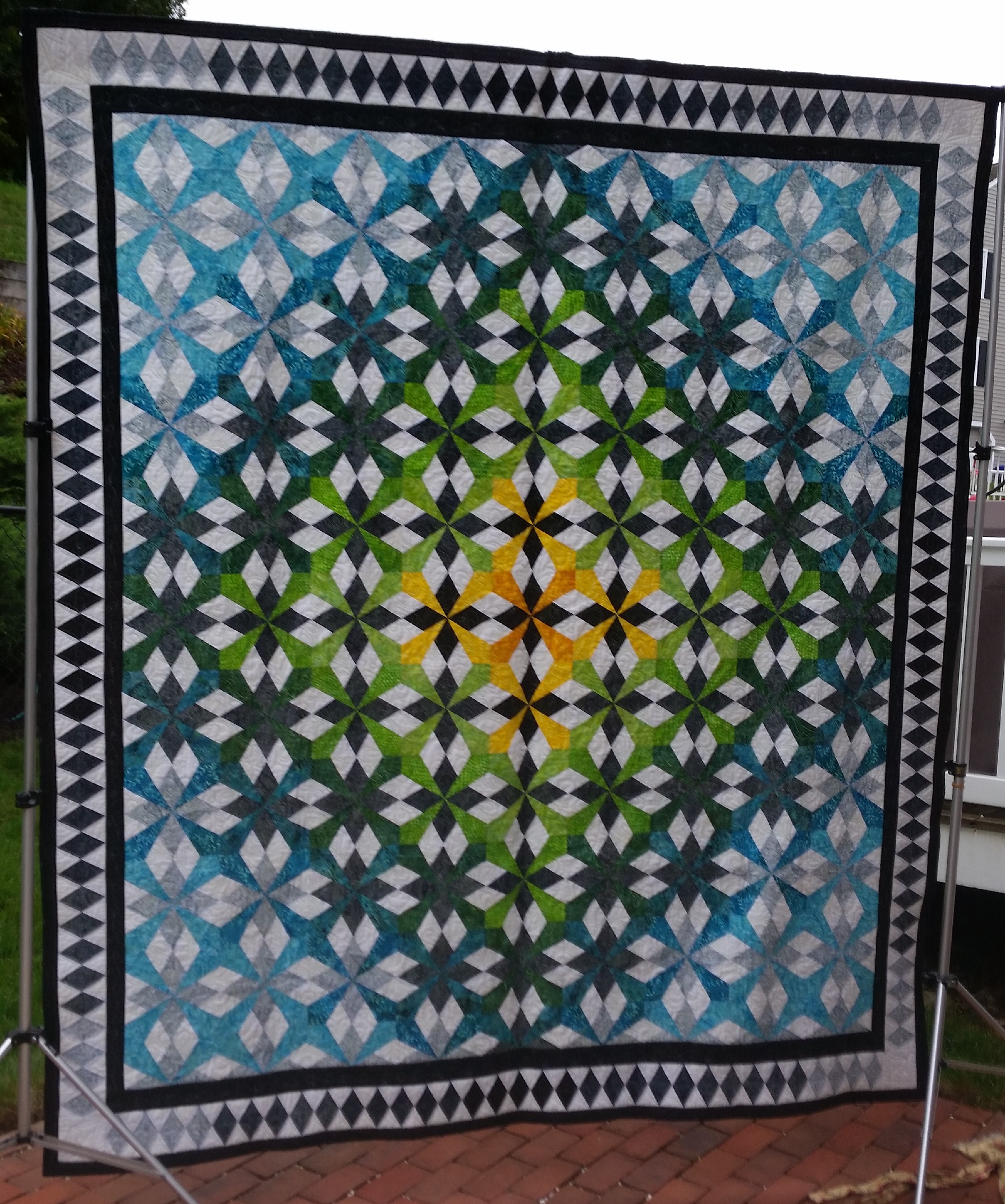 Friday, October 4th:  10 AM – 6 PM
Saturday, October 5th: 10 AM – 4 PM
St. Matthews United Methodist Church
435 Central Street
Acton, Ma 01720
Admission:  $7. Children under 12 free
Activities:
See a spectacular display of quilts and wearables
Visit our members' craft boutique with unique and beautiful gifts
Shop at our vendors' booths
Watch a demonstration
Visit our antique quilt room, some quilts and quilt tops available for purchase
Visit our Raffle Table with great, handmade items available to win
Buy a tin of delicious cookies wrapped in colorful fabric
Take  a chance on the guild raffle quilt
In the fall of odd-numbered years, the Concord Piecemakers Guild holds a quilt show that exhibits the quilts made by its members. This show is not juried.
For more information, contact quilt_show@concordpiecemakers.org
*********************
The 2019 Rising Star Quilt Show
Our 32nd annual Quilt Show will be held Friday October 4 & Saturday October 5 at St Brigid Church,1995 Massachusetts Ave. Lexington, MA
Hours: Friday & Saturday 10 am – 5 pm
About the show
In Keilty Hall (the bigger one, under the church):

The Quilts
Scavenger hunts
Raffle quilt
Mini quilt raffle and raffle baskets
Café
Vendors
Demonstrations by RSQ members
Yard sale

In Parish Hall:

Boutique
More Quilts, including the challenge quilts

A portion of the proceeds are donated to REACH Beyond Domestic Violence
Admission $7.00
Children 12 years and under free!
For directions and more information go to:   http://www.risingstarquilters.org/show.html
**********************
Belknap Mills Quilters Guild 42nd Annual "Harvest of Quilts"
Saturday Oct 5th from 10 am – 5 pm  and
Sunday October 6th from 11 am to 4 pm.
Gilford Youth / Community Center,  19 Potter HIll Road,  Gilford NH 03249
Admission:  $7.00 / Children under 12 Free
​
Harvest of Quilts includes quilts of all sizes and designs.  Visit the show's merchants,  our "Harvest  Café", take in a demonstration or two, have your quilt appraised by making an appointment, visit the guild table, buy your tickets for the penny raffle, door prizes, or buy a chance on our raffle quilt & sewing machine raffles.
                          *************************
Cocheco Quilters Guild – 38th Annual Quilt Show – "CHANGING TIDES"
OCTOBER 12-13, 2019: 10 AM – 4 PM
Rochester Community Center
150 Wakefield Street, Rochester NH
​ADMISSION: $8/day or $10 for both days. Children <12 free.
200+ Gorgeous Quilts
Raffles Door Prizes
Penny Sale Gift Boutique
Quilt Appraisals Vendor Mall (see list)
Special Exhibits Demonstrations
Lunch, Snacks & Much More!
For more information go to:    http://cochecoquilters.com/quilt-show.html
"Quilting in the Land of Milk & Honey" Quilt Show
Saturday, October 12, 10 a.m. to 5 p.m.  /   Sunday, October 13, 10 a.m. to 3 p.m.
Middlebury Recreation Center,  154 Creek Rd.,  Middlebury, VT
Our 2019 Raffle Quilt! – "In Flight"  – 86″ x 106″
Raffle tickets may be purchased at Quilters' Corner located at 260 Court St (Hannaford Shopping Center) in Middlebury.
For more information:  http://www.milkandhoneyquilters.com/.
************************
Ninigret Quilters 2019 Quilt Show
October 18 – 19 – 20, 2019
Friday – Saturday – Sunday 10 am – 4 pm
Westerly Armory, Westerly, RI
The Raffle Quilt is "Ocean Sunset", based on Diane Beaubein's Simply Stunning Pattern.
Assembly and layout by Ellie Coffey & Tora Sterregaard.  Quilted by Pat Harrison.
Almost 200 quilts on display  /  Demonstrations  /  Refreshments  /  Vendors
RAFFLE BASKETS:   Fat Quarters  /  Grandma's Baby  /  It's the 'Season'  /  Kitchen  /
Knitting, etc  /  Marine/Seashore  /  Mystery Basket  /  Pasta, Wine & Chocolate  /
Pets  /  Plethora of PreCuts  /  Travel  /  Year of Table Toppers.
http://ninigretquilters.blogspot.com/
********************
Burlington Quilters Guild Annual Quilt Show & Boutique
Middlesex Community College Campus Center
591 Springs Rd
Bedford, MA 01730
Dates & Hours:
Saturday October 19, 2019 –  10:00-5:00
Sunday October 20, 2019 –  10:00 – 4:00
Features:
Quilts, quilts and more quilts on display /  Raffle baskets  /  Raffle quilt  /   Refreshments  /
Scavenger hunt with prizes  /  Vendors  /  A wonderful collection of boutique items
For More Information and Directions:  http://www.burlingtonquiltersguild.org/
***************************
Wilmington 9th Annual Quilt & Craft Show
In honour of founder Suzanne Alice Wells Wurzberger.Historic Memorial Hall, Downtown Wilmington VT
October 19 10am – 5 pm  /  October 20  10 am – 4 pm.
             **********************